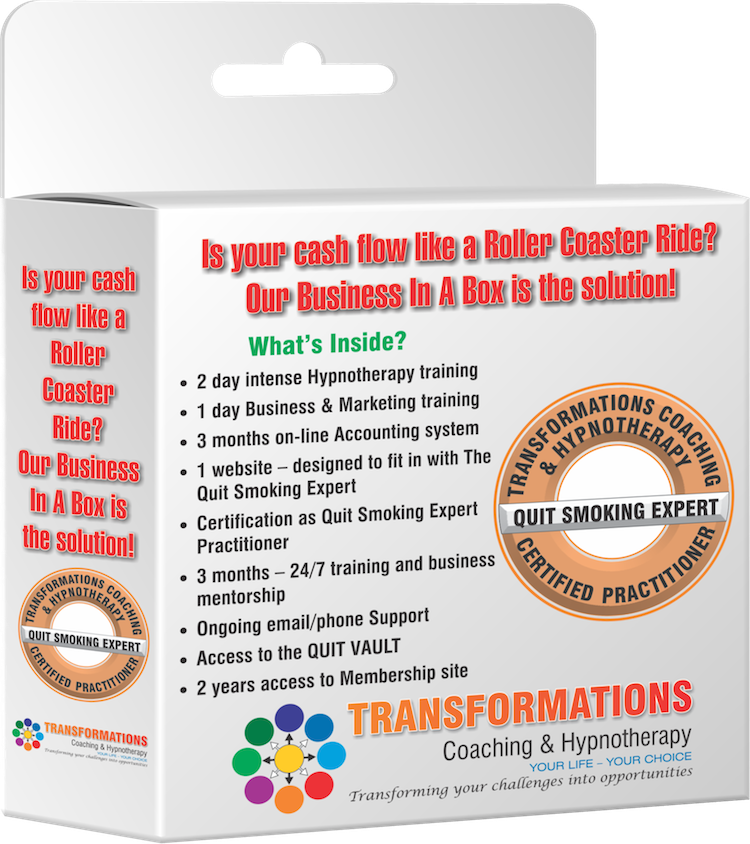 "3 Days Individual Training To Eliminate Cash Flow Problems!"
Don't Spend Another Dollar On Information About How To Eliminate Cash Flow Problems Until You Read This…
You Can Laugh At Your Cash Problems And Stop Feeling Frustrated, Overwhelmed Or Worried Over Money
Introducing
Certified

Training – all you need to create an awesome clinic!
ONE OF THE BEST TRAINING YOU CAN DO FOR YOURSELF AND YOUR BUSINESS.

PHONE: 1300 64 53 54
About our educator
Steve Gardiner: "I have been helping people Quit Smoking for around ten years and this has taken out the "roller Coaster" in my cash flow, doubled my income and resulted in constant referrals for both Hypnotherapy and Coaching.
As a result, this year my business was a finalist in the Telstra Small Business Awards.
Over the course of ten years I have developed and refined a unique four step process for Quit Smoking that is extremely successful and works. Due to requests from hypnotherapy colleagues I am now teaching my method and I am looking for a select few people who will take my process and run with it."
So why would you take the time and expense to learn hypnosis for quit smoking?
Here are some compelling reasons to learn from an Expert:
CONTACT US NOW AND BOOK YOUR PLACE: Phone 1300 64 53 54
Your course is a focused, individual training over 3 days and I work one on one with you so that when you leave at the end of the three days you have the confidence to start helping people to quit smoking straight away.
Your training includes: The Quit Smoking Expert Unique 4 step Hypnotherapy process PLUS all the business and marketing tools you need to set up your business, (fully compliant), with brochures, website and be ready for clients.
You walk out with your new
"Business in a Box"!
YOU WILL HAVE EVERYTHING YOU NEED TO EITHER START A BRAND NEW BUSINESS FROM SCRATCH OR AN "ADD-ON SERVICE" TO YOUR EXISTING BUSINESS.
I heard about Steve and his Quit Smoking Practitioner Program in 2012 and after a long telephone conversation, booked in and flew to Brisbane.The training is intense but thorough. At the end of 3 days you know you will be successful. Everything is covered! Plus there is the ongoing mentoring!! Worth every penny! They say 24/7 and they mean it. They always responded ASAP when I called or emailed. Best business decision I have made. I had been running my own business for years but always struggled with cash flow. That is now a distant memory. I have more clients than I can handle and the Cash to match. I just followed the Business Training I received and now my business has structure, is successful and stress free.
As I train each Certified Practitioner one-on-one, space is limited. It is first come first served. There will be only be 2 more trainings this year. Remember, this is Personal, one-on-one training!
Don't miss out…. Start 2015 ahead of your colleagues:
CONTACT US NOW AND BOOK YOUR PLACE: Phone 1300 64 53 54
With my process and your enthusiasm to Make A Difference, you can build a Quit Smoking business very quickly and there is no reason why you cannot achieve a six figure income from Quit Smoking with 2 years.
If you are already in business – would an extra $1500 to $3000 a week make a difference to your cash flow?
If you are looking to INCREASE your CASH Flow
and EXPAND Your Business
Why Not Contact Me Now:
PHONE: 1300 64 53 54